Archive for the 'Ants' Category
Tuesday, December 4th, 2012
A concerned individual
'Twas the night before Christmas, when all through the house
Creatures were stirring, including a mouse
Neither of us had a clue how they got here
Our house is infested I told my dear
The children were awake stirring in their beds
While visions of spiders danced in their heads
When out in the room there was a pitter patter
I sprang from the bed to see what was the matter
The tree was crawling with insects below
A Christmas tree can have pests but how could I know
More rapid than cheetahs the ants they came
And marched to the kitchen in search of sugar cane
To the top of the ceiling! To the top of the wall!
How on earth could I get rid of them all!
What could I possibly have done differently?
Lloyd Pest Control
When buying a tree you should check for bugs and shake gently
Bring a flashlight to the lot in order to see
That no insects have infested the greenery
These few simple things are easy to do
And will help to prevent pests from bugging you
The bugs on the tree are seldom harmful
But exposed food in your house will make it an armful
So be careful to check the tree before you buy
Because a tree full of bugs might make you cry
We hope you have a joyous Holiday Season
A house without pests is a wonderful reason
To Celebrate
The Holiday
Happy Holidays from Lloyd Pest Control
Click here for a humorous post titled "Should I worry about bugs in my Christmas tree?"
The post above is an adaptation of the original work "Twas the night before Christmas" by Clement Clarke Moore
Tags: Ants, Bark Beetles, Bugs, Christmas Tree Shopping, Clement Clarke Moore, Holiday Season, Insects, Pest Control, Spiders, Twas the night before Christmas
Posted in Ants, Pest Control Tips, Rodents, Spiders | No Comments »
Tuesday, August 28th, 2012
In Southern California, we see our share of ants. In fact, we've written several posts about why you get ants in your home , how to prevent ants, and how to treat ants.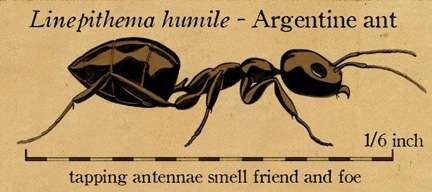 Here at Lloyd Pest Control, we are always on the lookout for news and discussions about our favorite topic – pests! Recently, we came across a podcast that outlines the history of the Argentine Ant. We can thank a steamboat out of Buenos Aires in the 1890's for transporting them to Louisiana and then the great advancement of cross-country trains to land them in California by 1907.
Argentine Ants are an invasive species. Their strategy is simple: kill anything that isn't one of us. Argentine Ants have managed to do just that. The super colony they have created spans every continent except Antarctica.
During the podcast, David Howay, an ecologist and evolutionary biologist from UC San Diego takes you to a driveway in Escondido, California where he demonstrates the nasty and loyal habits of the Argentine Ant.
Tags: ant prevention, ant treatment, Ants, ants in Southern California, argentine ants, pest control for ants
Posted in Ants, Uncategorized | No Comments »
Tuesday, August 14th, 2012
Summer months are notorious for bringing vibrant sunshine, the inevitable heat, and a not so desirable fire. Fire ants are more than just a backyard nuisance – they're capable of harming you, your children, and even your beloved pets. This highly invasive species can be found in various parts of the country including certain areas of Southern California, particularly in North County San Diego, San Bernardino and Palm Springs. Fire ants are unlike the typical ants that invade your kitchen looking to quench their thirst. This particular breed is venomous and relentless. NOTE: A general ant treatment will do nothing to eradicate a fire ant population.  In fact, it can break the colony into smaller groups and give you multiple colonies to battle. Take the necessary precautions to keep you and your loved ones safe.  Below we have included some tips on how to identify fire ants, treat stings, and rid these irritants from your property.
How to Identify Fire Ants:
- Fire ants vary in size ranging from 1/16th of an inch to 1/5th of an inch in length.
- Fire ants have a dark reddish brown hue
- These insects build dirt mounds that can eclipse 12 inches in height and diameter, stretching up               to 5 feet below the soil!
Behavior "The Telltale Signs":
-Fire ants are very aggressive and territorial in regard to their colony
-One way to determine if a mound houses fire ants is by taking a long object and stirring the soil              nearby with extreme caution. If they fervently climb or "attack" the object, they are most likely fire        ants.
Are they Harmful?
-Fire ants possess venom that causes your skin to swell into a bump
-Stings often bring a burning sensation, hence the name "fire ant"
How to treat a fire ant sting:
-When stung, elevate the affected area and keep it clean
-Do not scratch the irritated area because this may lead to infection.
-Some individuals are highly allergic to the venom. If you are stung and experience chest pain,              nausea, loss of breath, or other severe symptoms, seek medical attention immediately.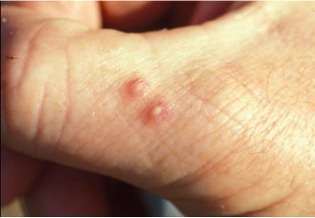 Why and where are they in my yard?
-Fire ants feed on sprouting seeds or plants, tiny or dead animals, as well as damaged plant life.
-They can often be found near moist areas, under boulders, brick piles, and woodpiles.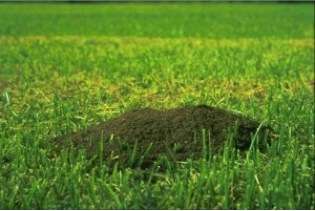 How to prevent fire ants
-Being a potentially harmful invader, these ants are a fire you don't want to mess with. If you see a  mound on your property, contact your local pest control company to professionally eradicate these          relentless colonial dwellers.
If you are a resident of Southern California and suspect a fire ant infestation in your yard, contact Lloyd Pest Control to recommend a course of treatment. For more information, please visit http://www.lloydpest.com/ants/
Tags: ant prevention, fire ants, fire ants in Orange County, fire ants in San Bernardino, fire ants in San Diego, fire ants in Southern California, get rid of fire ants, how to prevent fire ants, pest control for ants
Posted in Ants, Pest Control Tips, Safety | No Comments »
Tuesday, July 17th, 2012
There is one house guest that no one wants, but nearly everyone gets – ants. And as the weather continues to warm, ants will begin marching one-by-one indoors. Take the necessary steps to prevent ants from ruining your summer fun.
A recent study of pest professionals, conducted by the National Pest Management Association (NPMA) has revealed that ants are the number one nuisance pest in the United States and often become a problem during the warmer months as they venture indoors to look for food.
Unfortunately, ants are more than just a household annoyance. Ants can pose health risks and cause extensive property damage once inside the home.
Odorous ants are known to contaminate food sources and carpenter ants can tunnel through wood to build nests inside structures. Luckily, a mixture of integrated pest management tactics can effectively prevent and manage most infestations.
We recommend the following tips to avoid ant infestations:
Eliminate sources of moisture or standing water near a home.
Keep tree branches and other shrubbery well trimmed and away from the house.
Seal cracks and holes on the outside of the home.
Store firewood at least 20 feet away from the house and five inches from the ground.
Keep food in sealed containers and dispose of garbage regularly.
Keep pet food and water dishes clean and remove any spilled food.
And the biggest ant issue in Southern California?  The invasive Argentine ants which have displaced almost all others, taking over underground ant colonies – and above ground people homes – in greater numbers each year for the past decade.
If you suspect an ant infestation, contact Lloyd Pest Control
to identify the species and recommend a course of treatment. For more information, please visit http://www.lloydpest.com/ants/
Tags: ant infestation, Ants
Posted in Ants, Pest Control Tips | No Comments »
Wednesday, March 14th, 2012
Argentine ants are the common variety of ants we find here in Southern California. They are an invasive species that was brought to North America by ships transporting coffee. They are all part of one super-colony – all of the Argentine ants that are here smell the same. Since they smell the same, they don't fight and knock each other out. Because they don't knock each other out, they multiply out of control. Believe it or not, these tiny creatures (often only as long as 1/10 of an inch) are bad for the environment – they actually displace native species.
There aren't any huge health concerns with ants. Don't get us wrong, they do carry germs, but it is rare to suffer any health problems from ants in  your home. However, we understand that they can be a big annoyance and quite embarrassing!
How can you prevent Argentine Ants?
Fix leaky faucets – they are looking for water. Keep that in mind everywhere there may be water in your home.
Don't leave food or crumbs around the kitchen or house. The Scout ants are constantly looking for food to bring back to their queen.
Have a yearly pest control application on the foundation of your home
If you see a trail of ants in your home, wipe/spray that trail down with window cleaner that contains ammonia. This will kill the pheromone (scent) trail they are using to get back and forth and find their way around.
Keep food (including dog food) tightly closed inside sealed containers.
Empty your indoor trash cans often. Be sure to also rinse the inside of these cans so that any spills or crumbs are washed away.
Good luck in the fight against ants. If you need professional help, we are always here.
Tags: ant prevention, ants in my home, ants in Southern California, get rid of ants, pest control for ants
Posted in Ants, Pest Control Tips | No Comments »