Archive for the 'Company News' Category
Wednesday, March 6th, 2013
A new reality TV show on AMC, "Immortalized," aims to showcase the creative side of taxidermy. One contestant in particular, Petaluma, California entomologist Kevin Clarke, takes taxidermy to level most of us have likely never considered: insects on motorcycles (hilariously titled "Weevil Knievel").
While most people have heard of butterfly preservation, the preservation and articulation of other insects may come as a surprise. For Clarke however, the interest seems to have been with him since childhood:
I was very cruel to bugs when I was little. I had this dissecting table, and I would sit and poke at them with pine needles. Play doctor.
Who can blame him, though? We were all mean to insects when we were children. That seemingly inborn animosity for most of use carries throughout our lives, but some, like Clarke, adopt a different perspective.
Clarke's work, which can be seen at BugUnderGlass.com, runs the gamut from whimsical to educational but remain consistently, dare we say, aesthetically beautiful.
But as beautiful as some insects can be, it's important that insect and other bugs are controlled to prevent residential infestations. Once bugs—along with the diseases they carry and damage they cause—breech the perimeter of our homes, we must take serious action. That's where Lloyd Pest Control comes into play. Call us for all of your Southern California pest control needs. Or, if you have some amazing Kevin Clarke specimens to show off, call us and invite us on a tour!
Call now! 1. (855) 533-8022
Tags: beetles, Beetles Riding Skateboards and Playing Banjos?, control, extermination, exterminator, Lloyd Pest Control, pest
Posted in Company News | No Comments »
Wednesday, October 24th, 2012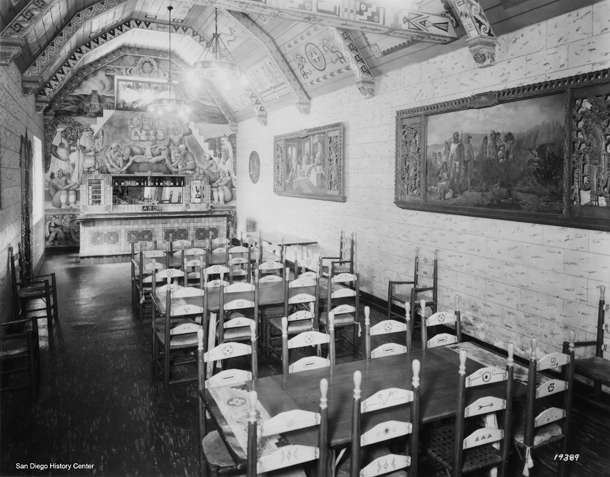 Lloyd Pest Control has proudly supported the arts for numerous years. Whether it is music, painting, or film, we see beauty in all creativity. Recently we have had the great opportunity to preserve a tangible piece of art history. Unfortunately the Aztec Brewery in Barrio Logan fell victim to one of the most notorious fall pest infiltrations. As you may have read in our previous blog post, the fall season undoubtedly brings swarms of termites.
In the 1930's the Aztec Brewing Co. was a popular spot for tasting. The extravagant décor filled the room, creating a sublime atmosphere. The physical bar at the Aztec Brewing Co. "is the centerpiece of a collection of furniture, murals and roof beams that the city has been storing for more than 20 years." When one of the art handlers "pulled the wooden bar out of storage they found bore holes, remnants of mud, and weakened wood." This posed a large problem considering the bar was to be moved to a conservation studio in L.A.. Because it was infested, we were asked this past weekend to fumigate the bar. The project was a success and we were able to save a piece of history before the termites were able to inflict more harm.
Here at Lloyd Pest Control, we are the only ones in San Diego County to have a special fumigation chamber that is used for certain items such as valuables, antiques, or even vintage bars like that of the Aztec Brewery. It is unique because the customer can bring anything from as small as a stamp collection to as large as a couch or armoire and have it treated professionally. It is a safe way to fumigate single or multiple items without tenting your entire home. We also provide this service in the Anaheim area as well.
Click here for the full article
Tags: Fall Termite Swarms, Fumigation, Pest Control, Southern California Pests, termite control, Voice of San Diego
Posted in Company News, Termites | No Comments »
Wednesday, December 28th, 2011
How did you get into the field of entomology and pest control?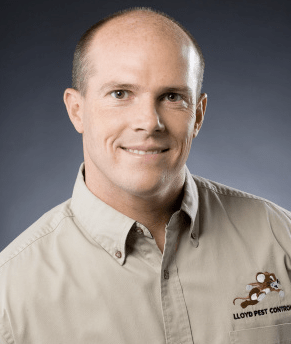 I first became interested in entomology while working a summer internship at a state agricultural research facility in South Carolina. After finishing my bachelor's degree in biology I went on to earn both a M.S. and Ph. D. in entomology from Clemson University.
What does your average day look like?
Some days I am in the field, perhaps a new territory. While out in the field I am really in problem solving mode…identifying local pests, trying new products, and analyzing our treatment techniques. Other days, I work from the office and identify rare bugs that a customer or technician may have found. Other days, I am training our service staff, perfecting our treatment protocol or even making house calls.
What are the biggest and most common pests in San Diego?
Ants, rodents, and roaches in that order.
What are the biggest and most common pests in Orange County?
Ants, rodents, and roaches in that order.
Fire ants are also a problem in Orange County.
What are the biggest and most common pests in Palm Springs?
Black widow spiders, crickets and scorpions are very common pests in Palm Springs.
Is Pest Control safe for humans and pets?
Absolutely. In fact, I use the same products in my own home and I have a young child and a dog. Lloyd follows professional EPA standards and everything is thoroughly tested.
Does every pest control company have an entomologist?
No, most companies don't have an entomologist. That's why Lloyd Pest Control  is on the leading edge of pest control in Southern California (and in the country). The company has made education, research and training a priority – which has contributed to its success over 80 years.
See Dr. Paysen on FOX San Diego: How Can I Keep Bugs Out of My Home?
Tags: Common pests in Orange County, Common pests in Palm Springs, common pests in San Diego, Dr. Eric Paysen, is pest control safe, Lloyd pest control entomologist
Posted in Company News, Pest Control Tips | No Comments »
Monday, October 3rd, 2011
Friday afternoon was an exciting one at University City High School. Local artist Endoxi, just returning from a West Coast tour, performed at the lunchtime Find Your Voice event.  Lead singer, Chris Wilson, once a student at UCHS, making it a happy homecoming for the students and for Chris.  The band is featured on the Find Your Voice CD, presented by Lloyd Pest Control and KPRi. The CD raises critical funds for the San Diego Unified School Districts visual and performing arts department.  The show opened with Funk n' Awesome – a horn-driven ska band, also from UCHS. During the event, we were happy to present the school with a $2,500 check toward visual and performing arts.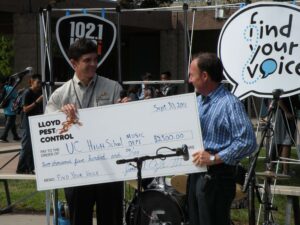 Tags: endoxi, find your voice, funk n awesome, kpri, local music, san diego unified school district visual and performing arts
Posted in Company News | No Comments »
Monday, September 26th, 2011
After receiving e-mails about our Labor Day ant cake, we decided to post the details of the arduous process.  Maybe you're a mom with a toddler who loves ants and you need a special birthday cake.  Maybe you're just weird like us.
1)       Bake three round 9" cakes.  Chocolate is best.  But you probably already know that.  Maybe you prefer lemon, but that would be wrong here.  Cherry?  You are twisted.  Please send us a photograph of your finished product.
2)      Assemble the three cakes end-to-end in a straight line.  Regardless of your cake flavor, chocolate frosting is required.  We used dark chocolate frosting because we are very  health-minded and have heard that dark chocolate has antioxidants.  Seriously.  It's true.  We read it on the internet.  As we were eating dark chocolate.  Trying to find out what 'antioxidant' means.

3)      Line up six sticks of thick black licorice.  We use Red Vines black licorice.  I know… we just blew your mind.  Red Vines are red.  But they also make black ones.  Use the black ones.  Do not use Twizzlers, because Twizzlers are terrible.
4)      Using a really tiny band saw (or a butter knife), cut half-way through the middle of each licorice stick.  This is so that you can bend the legs away from the cut, so that they appear segmented.  What?  Did you really think we would make a morphologically errant ant cake?  We are professionals here.

5)      Frost the licorice sticks.  It's a little tough, but the darkness of the licorice is forgiving.
6)      Take your chocolate-frosted Red Vine black licorice sticks and stab them into the middle round cake as indicated in the illustration.

7)      Use thin black licorice whips as antennae (Don't frost them.  It ruins the reception.)
8)      MOST IMPORTANT:  Serve the ant cake on a red and white checkered vinyl tablecloth.  This is for authenticity, and to make the cake taste better.  Children find it delightful.  Grandmothers find it disconcerting.
That's it.  The whole ant-chilada.  You are now an ant cake queen.  Please send us pics of your cake being enjoyed.  And send us ideas for other bug-related food stuffs.
Bon ant-etit!
Tags: ant cake, birthday ant cake, insect cake, picnic cakef
Posted in Company News, For Fun | 4 Comments »
Thursday, July 28th, 2011
When school budget cuts were sweeping through San Diego, the first cuts were to the visual and performing arts departments. That's when we stepped in to inspire student creativity. We teamed with Cathryn Beeks, the host of the Homegrown Hour on 102.1 KPRi, and local artists to create "Find Your Voice" to raise critical funds for the San Diego Unified School Districts visual and performing arts department.
Most recently, a Find Your Voice event at Farb Middle School featured local artist David Ryan Norgen and The Socialists, along with a student ensemble from the school, playing in front of family, friends, neighbors and supporters to encourage students to forge their own path and find their own voice.
How can you help AND enjoy the music of local, award-winning artists? Purchase a Find Your Voice CD for just $5, available online. 100% of the proceeds go to the San Diego Unified School District's Visual and Performing Arts Department.
Posted in Company News | 1 Comment »