Archive for the 'Pest Control Tips' Category
Monday, May 6th, 2013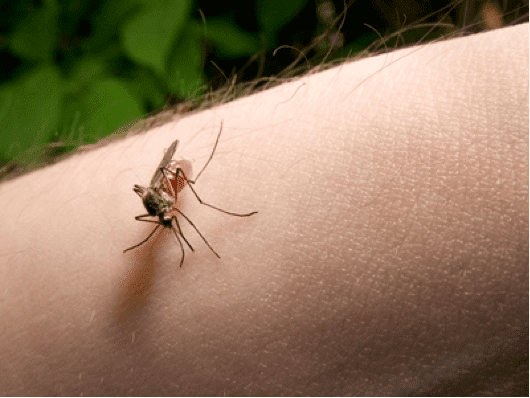 3 ways to enjoy summer without bugs
Preparing for the summer season is more involved than simply unpacking your bathing suit and purchasing a pair of flip-flops. As temperatures begin to rise, so does the insect population. Warm temperatures coupled with abundant new plant life allow insects to fulfill their life cycle. Because insects are cold blooded, the environment regulates their body temperature. In hot weather, bugs are much more active. Larvae grow faster, insect's speed increases and mating peaks. As the insects strengthen their numbers, keeping them off and out all summer long can be a challenge. Here are 3 tips to keep your summer bug free.
Leave the perfume: A few sprays of your favorite perfume may be attractive, but with it you will attract more bugs than boys. Many types of fragrances mimic the odor of flowers, citrus and sweets. Bugs love these smells and they will flock to you.
Use unscented bug spray: If you have ever been part of a camping experience, bug spray was most likely first on your grocery list. Insects such as mosquitos, black flies and deer flies are attracted to humans by their skin odor. Bug spray works to interfere with the insect's senses and redirect the insect from the skin. Although bug spray keeps bugs from biting you, it does not keep the bugs from flying around you. Bug spray is only effective at close distances from the treated surface.
Keep your yard clean: Often, bugs are invited near/in your home by the way the yard is maintained. Standing water, pooling and poor drainage channels can be quite inviting to mosquitos and other bugs. If you have a swimming pool, keep it chlorinated and filtered. Be sure to rotate fountain water every other week. Removing debris and leaves can help eliminate hiding spots for critters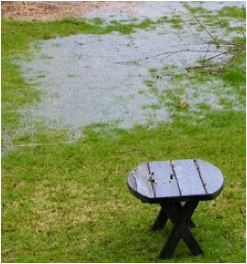 If your pests are persistent and you find yourself swatting throughout the day, you might need some extra help. Contact your pest control expert to fully diagnose the bug infestation. It may require more potent measures
Posted in Pest Control Tips | No Comments »
Tuesday, December 4th, 2012
A concerned individual
'Twas the night before Christmas, when all through the house
Creatures were stirring, including a mouse
Neither of us had a clue how they got here
Our house is infested I told my dear
The children were awake stirring in their beds
While visions of spiders danced in their heads
When out in the room there was a pitter patter
I sprang from the bed to see what was the matter
The tree was crawling with insects below
A Christmas tree can have pests but how could I know
More rapid than cheetahs the ants they came
And marched to the kitchen in search of sugar cane
To the top of the ceiling! To the top of the wall!
How on earth could I get rid of them all!
What could I possibly have done differently?
Lloyd Pest Control
When buying a tree you should check for bugs and shake gently
Bring a flashlight to the lot in order to see
That no insects have infested the greenery
These few simple things are easy to do
And will help to prevent pests from bugging you
The bugs on the tree are seldom harmful
But exposed food in your house will make it an armful
So be careful to check the tree before you buy
Because a tree full of bugs might make you cry
We hope you have a joyous Holiday Season
A house without pests is a wonderful reason
To Celebrate
The Holiday
Happy Holidays from Lloyd Pest Control
Click here for a humorous post titled "Should I worry about bugs in my Christmas tree?"
The post above is an adaptation of the original work "Twas the night before Christmas" by Clement Clarke Moore
Tags: Ants, Bark Beetles, Bugs, Christmas Tree Shopping, Clement Clarke Moore, Holiday Season, Insects, Pest Control, Spiders, Twas the night before Christmas
Posted in Ants, Pest Control Tips, Rodents, Spiders | No Comments »
Wednesday, October 3rd, 2012
Fall and spring are undoubtedly beautiful times of the year, but they also bring swarms of a certain pest that is not so aesthetically pleasing. Termites are known to cause $5 billion in damage each year, and are nearly impossible for homeowners to treat on their own.  Lloyd Pest Control offers professional termite treatment along with family safe products that have been registered for use by the EPA. Because these wood destroying insects pose a threat to every home in Southern California, we believe it is vital to be aware of possible signs of infestation. Below are some educational tips and warning signs to help you evaluate whether or not these pests have made your home theirs.
Tips to avoid termite infestations:
As most termites are attracted to moisture, avoid water accumulation near your home's foundation. Divert water away with properly functioning downspouts, gutters and splash blocks.
Quickly repair house damage from a leaky roof or window as termites can thrive in this moisture.
Never bury wood scraps or waste lumber in the years, especially near the building. Remove old tree stumps and roots around and beneath the building.
Most importantly, eliminate any wood contact with the soil. Maintaining a 1-inch gap between the soil and wood portions of the building is ideal.
Recognizing the destruction
termites
 can cause, it is important to be aware of infestation warning signs:
Swarming happens in the fall (now!) and spring – termites can easily be confused with flying ants.
Evidence of mud tunneling in, over and under wood structures.
Wooden structures exhibit darkening or blistering.
Damaged wood becomes extremely thin and can easily be punctured by a knife or screwdriver.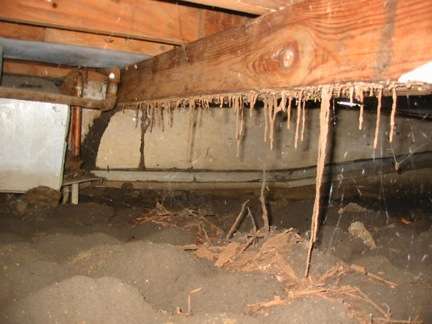 "Virtually all experts recommend calling a pest professional to protect one of your most important investments, your home, from
termite
infestation," says Missy Henriksen, NPMA vice president of public affairs.Lloyd Pest Control offers the specialized skills necessary to rid a home of termite infestation: knowledge of building construction, an ability to identify termite species and the knowledge of applicable methods of termite control.
For further information, visit ww.lloydpest.com or give us a call at 1-800-BAD-BUGS.
Tags: Fall, Foundation, House, Mud Tunneling, Pest Control, Southern California, Swarming Season, Termites, Tips
Posted in Pest Control Tips, Termites, Uncategorized | 4 Comments »
Tuesday, September 18th, 2012
As the crisp weather arrives and the summer season comes to an end, don't assume that stinging insects will soon disappear. Lloyd Pest Control, a pest management company servicing Southern California, warns that stinging insects tend to be more aggressive during the early fall as they gather food for the winter months ahead.
Most people associate stinging insects with the hot summer months, but as the cooler weather approaches, people still need to be aware of the dangers posed by yellow jackets, bees and wasps. If provoked, these pests can sting repeatedly, which increases the potential for skin irritation or a serious allergic reaction."
Experts at the National Pest Management Association, a nonprofit organization committed to the protection of public health, food and property from household pests, recommend that homeowners inspect their properties frequently for signs of an infestation. Common stinging insect nesting sites include under eaves, on ceiling beams in attics, garages and sheds, and under porches. In addition, homeowners should follow these tips to avoid being stung:
1. Wear shoes, especially in grassy areas.
2. Keep windows and doors properly screened.
3. When dining outside, keep food covered until ready to eat.
4. Remove garbage frequently and keep trashcans covered.
5. Overseed grassy areas to get better coverage, as this will deter ground-nesting insects.
6. Do not swat at a stinging insect as it increases the likelihood of an aggressive reaction.
7. Seek immediate medical attention if stung, as reactions can be severe.
Attempting to remove a nest or hive without the help of a professional can be extremely dangerous. It's important to contact someone with proper training to rid the property of these pests."
For more information on stinging insects, visit www.lloydpest.com or give us a call at 1-800-BAD-BUGS
Tags: Autumn, Bees, Bugs, Pest Control, Safety, Southern California, Stinging Insects, Wasps, Yellowjackets
Posted in Pest Control Tips, Safety, Uncategorized | No Comments »
Tuesday, August 14th, 2012
Summer months are notorious for bringing vibrant sunshine, the inevitable heat, and a not so desirable fire. Fire ants are more than just a backyard nuisance – they're capable of harming you, your children, and even your beloved pets. This highly invasive species can be found in various parts of the country including certain areas of Southern California, particularly in North County San Diego, San Bernardino and Palm Springs. Fire ants are unlike the typical ants that invade your kitchen looking to quench their thirst. This particular breed is venomous and relentless. NOTE: A general ant treatment will do nothing to eradicate a fire ant population.  In fact, it can break the colony into smaller groups and give you multiple colonies to battle. Take the necessary precautions to keep you and your loved ones safe.  Below we have included some tips on how to identify fire ants, treat stings, and rid these irritants from your property.
How to Identify Fire Ants:
- Fire ants vary in size ranging from 1/16th of an inch to 1/5th of an inch in length.
- Fire ants have a dark reddish brown hue
- These insects build dirt mounds that can eclipse 12 inches in height and diameter, stretching up               to 5 feet below the soil!
Behavior "The Telltale Signs":
-Fire ants are very aggressive and territorial in regard to their colony
-One way to determine if a mound houses fire ants is by taking a long object and stirring the soil              nearby with extreme caution. If they fervently climb or "attack" the object, they are most likely fire        ants.
Are they Harmful?
-Fire ants possess venom that causes your skin to swell into a bump
-Stings often bring a burning sensation, hence the name "fire ant"
How to treat a fire ant sting:
-When stung, elevate the affected area and keep it clean
-Do not scratch the irritated area because this may lead to infection.
-Some individuals are highly allergic to the venom. If you are stung and experience chest pain,              nausea, loss of breath, or other severe symptoms, seek medical attention immediately.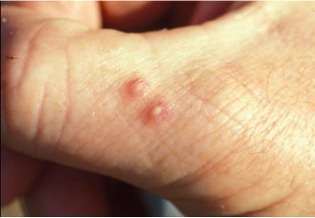 Why and where are they in my yard?
-Fire ants feed on sprouting seeds or plants, tiny or dead animals, as well as damaged plant life.
-They can often be found near moist areas, under boulders, brick piles, and woodpiles.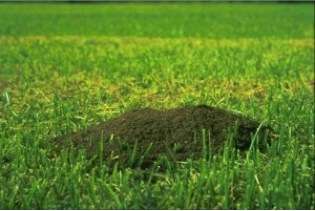 How to prevent fire ants
-Being a potentially harmful invader, these ants are a fire you don't want to mess with. If you see a  mound on your property, contact your local pest control company to professionally eradicate these          relentless colonial dwellers.
If you are a resident of Southern California and suspect a fire ant infestation in your yard, contact Lloyd Pest Control to recommend a course of treatment. For more information, please visit http://www.lloydpest.com/ants/
Tags: ant prevention, fire ants, fire ants in Orange County, fire ants in San Bernardino, fire ants in San Diego, fire ants in Southern California, get rid of fire ants, how to prevent fire ants, pest control for ants
Posted in Ants, Pest Control Tips, Safety | No Comments »
Tuesday, July 31st, 2012
Before your children head off to school, take a minute to review the attached Lice Prevention tips with them. Hopefully, you'll never need the treatment. If you do, we've outlined that for you as well.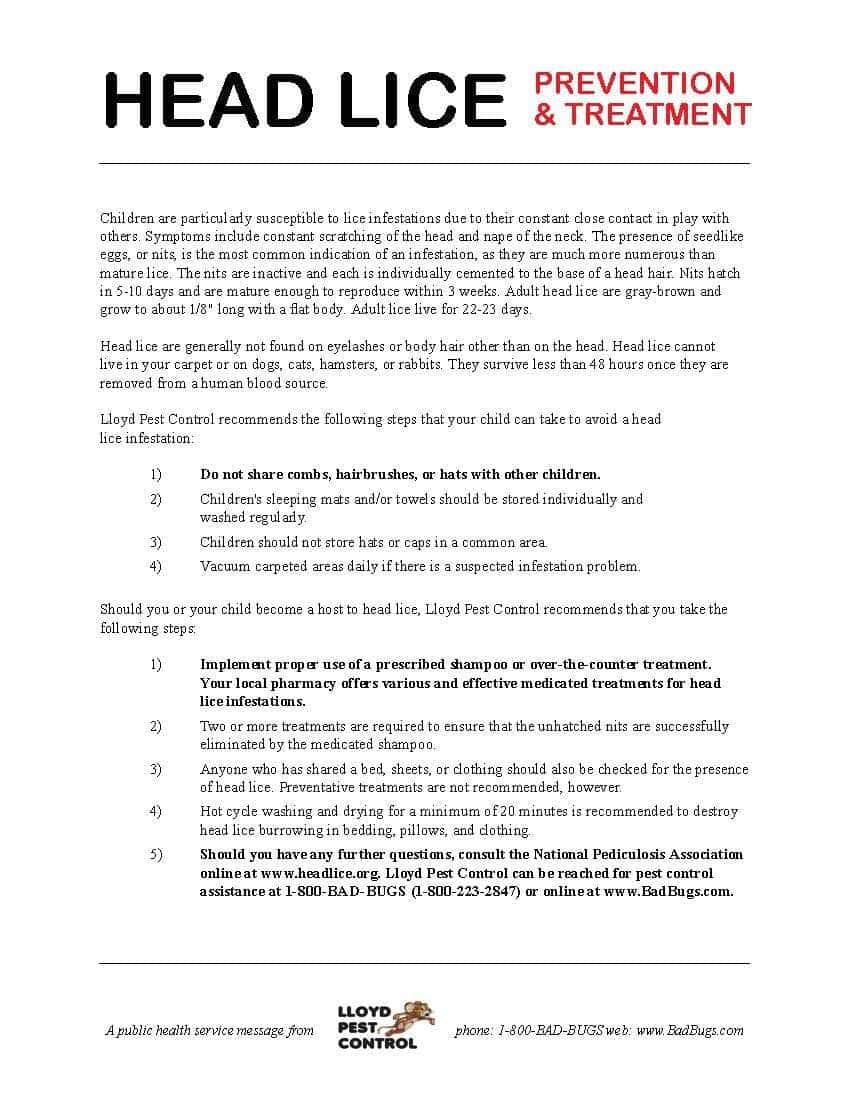 Children are particularly susceptible to lice infestations due to their constant close contact in play with others. Symptoms include constant scratching of the head and nape of the neck. The presence of seedlike eggs, or nits, is the most common indication of an infestation, as they are much more numerous than mature lice. The nits are inactive and each is individually cemented to the base of a head hair. Nits hatch in 5-10 days and are mature enough to reproduce within 3 weeks. Adult head lice are gray-brown and grow to about 1/8″ long with a flat body. Adult lice live for 22-23 days.
Head lice are generally not found on eyelashes or body hair other than on the head. Head lice cannot
live in your carpet or on dogs, cats, hamsters, or rabbits. They survive less than 48 hours once they are removed from a human blood source.
Lloyd Pest Control recommends the following steps that your child can take to avoid a head
lice infestation:
Do not share combs, hairbrushes, or hats with other children.
Children's sleeping mats and/or towels should be stored individually and
washed regularly.
Children should not store hats or caps in a common area.
Vacuum carpeted areas daily if there is a suspected infestation problem.
Should you or your child become a host to head lice, Lloyd Pest Control recommends that you take the following steps:
Implement proper use of a prescribed shampoo or over-the-counter treatment. Your local pharmacy offers various and effective medicated treatments for head lice infestations.
Two or more treatments are required to ensure that the unhatched nits are successfully eliminated by the medicated shampoo.
Anyone who has shared a bed, sheets, or clothing should also be checked for the presence of head lice. Preventative treatments are not recommended, however.
Hot cycle washing and drying for a minimum of 20 minutes is recommended to destroy head lice burrowing in bedding, pillows, and clothing.
Should you have any further questions, consult the National Pediculosis Association
online at www.headlice.org. Lloyd Pest Control can be reached for pest control
assistance at 1-800-BAD-BUGS (1-800-223-2847) or online at www.BadBugs.com.
Tags: head lice, head lice in schools, head lice prevention, head lice treatment, how to get rid of head lice, how to prevent head lice, how to treat head lice, symptoms of head lice
Posted in Pest Control Tips | No Comments »
Tuesday, July 17th, 2012
There is one house guest that no one wants, but nearly everyone gets – ants. And as the weather continues to warm, ants will begin marching one-by-one indoors. Take the necessary steps to prevent ants from ruining your summer fun.
A recent study of pest professionals, conducted by the National Pest Management Association (NPMA) has revealed that ants are the number one nuisance pest in the United States and often become a problem during the warmer months as they venture indoors to look for food.
Unfortunately, ants are more than just a household annoyance. Ants can pose health risks and cause extensive property damage once inside the home.
Odorous ants are known to contaminate food sources and carpenter ants can tunnel through wood to build nests inside structures. Luckily, a mixture of integrated pest management tactics can effectively prevent and manage most infestations.
We recommend the following tips to avoid ant infestations:
Eliminate sources of moisture or standing water near a home.
Keep tree branches and other shrubbery well trimmed and away from the house.
Seal cracks and holes on the outside of the home.
Store firewood at least 20 feet away from the house and five inches from the ground.
Keep food in sealed containers and dispose of garbage regularly.
Keep pet food and water dishes clean and remove any spilled food.
And the biggest ant issue in Southern California?  The invasive Argentine ants which have displaced almost all others, taking over underground ant colonies – and above ground people homes – in greater numbers each year for the past decade.
If you suspect an ant infestation, contact Lloyd Pest Control
to identify the species and recommend a course of treatment. For more information, please visit http://www.lloydpest.com/ants/
Tags: ant infestation, Ants
Posted in Ants, Pest Control Tips | No Comments »
Tuesday, July 3rd, 2012
As people begin to hit the road and embark on trips this summer, be on the lookout for bed bugs.
A recent study conducted by the National Pest Management Association (NPMA) and the University of Kentucky found that bed bug infestations are on the rise in many places. In fact, 80% of pest professionals surveyed had treated bed bug infestations in hotels/motels in 2011.
Bed bugs can be found in places that people typically frequent during vacations, such as hotels. Travelers can be more susceptible to encountering bed bugsand can unknowingly bring them home.
We recommend the following steps travelers can take to remain bed bug-free on vacation:
Thoroughly inspect the entire hotel room before unpacking and settling in, including behind the headboard and around the bottom of other furniture.
Pull back the hotel bed sheets and inspect the mattress seams, particularly the corners, for telltale spots or stains.
If any bed bugs are spotted, notify management and change rooms immediately. Be sure your new room is not adjacent to the possibly infested room.
Use a large plastic trash bag or a protective cover to store your luggage during your hotel stay.
When you return home, inspect and vacuum your suitcases thoroughly before bringing them into the house. Consider using a garment hand steamer to steam your luggage, which will kill any bed bugs.
Wash all your clothes – even the items not worn – in hot water.
If you suspect a bed bug infestation, contact Lloyd Pest Control to identify the species and recommend a course of treatment. For more information, please visit http://www.lloydpest.com/bed-bugs/
Tags: bed bugs, how to avoid bed bugs
Posted in Bed Bugs, Pest Control Tips | No Comments »
Friday, June 8th, 2012
We are always asked how to tell the difference between a harmless and dangerous spider. Which spiders are poisonous are which are not? Well, here it is. A quick and easy reference guide to the four arachnids to avoid in Southern California. Print it out, stick on your fridge, bulletin board or keep a handy copy on your phone. Know how to spot a poisonous spider and know what to do if you or your children are bitten.
CLICK HERE TO PRINT THIS GUIDE.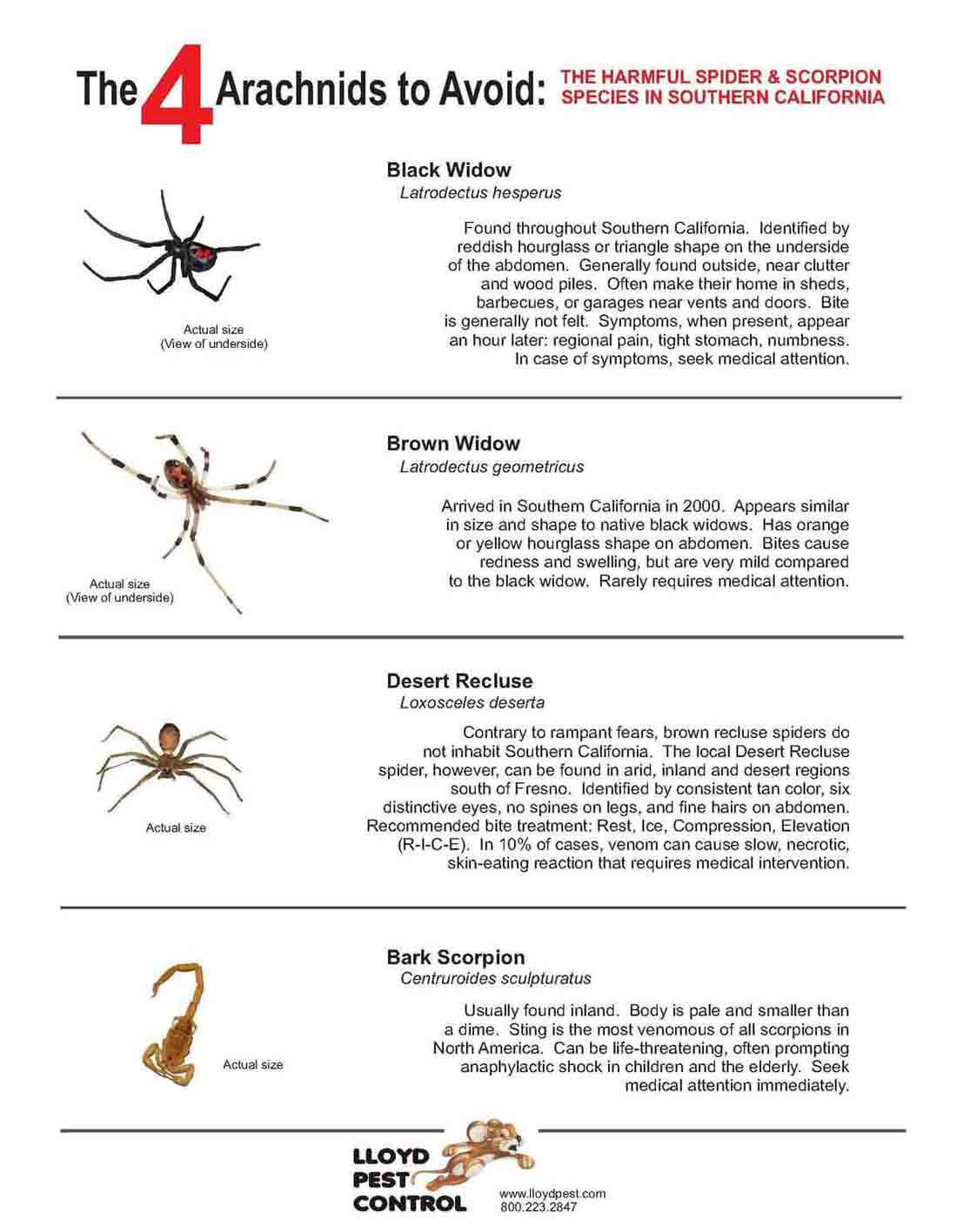 Tags: bark scorpion, black widow, brown widow, desert recluse, identify poisonous spiders, infographic, printable
Posted in Pest Control Tips, Safety, Spiders | No Comments »
Tuesday, April 3rd, 2012
Fleas are insects without wings that feed on the blood of their hosts, most commonly your pets. Fleas can jump 200 times their body length. And fleas jump quickly, which makes them hard to see (and catch).
Fleas cause more irritation (especially for your pet) than they do disease. Fleas can cause tapeworms if ingested by your pet, which could easily happen since they will constantly chew and gnaw on their coats/skin as fleas are biting.
It can be a long, hard battle if you get a flea infestation. In a month, a female can lay thousands and thousands of eggs. Fleas have several stages of life from egg to maturity and just when you think you've gotten rid of the fleas, a new round of mature fleas hatch.
Our best advice is Prevention! Topical flea treatments are incredibly effective in ensuring you don't suffer from a flea infestation. If you do this, you shouldn't experience a flea infestation and you won't need professional treatment. There are a variety of topical treatments for fleas on the market and your veterinarian can recommend the best solution for your pet.
Oh no, you have fleas! How to get rid of them for good:
You can't just get the fleas off the dog or cat and be done with fleas. Fleas will also be in the pet's bed, carpet, furniture, and sheets. You'll also have to treat your home for fleas.  Fleas live their life on and off of the host. Almost 75% of a flea's life is spent away or off of the host.
First, get fleas off the pet with flea shampoos, combs, and topical treatments.
Next, (and very soon) treat your home. Vacuum upholstered furniture, rugs and carpets to loosen the fleas and dispose of the contents in an outdoor trashcan. Do this again and again and again. Home foggers are readily available but can be dangerous and often used incorrectly. The safest (and most effective) solution is to have your trusted pest control service treat the inside and outside of your home for fleas.
Tip: Make sure your neighbors are also vigilant in flea prevention and control. Your neighborhood can easily become a breeding ground for fleas and may require area-wide control.
For professional help with fleas: http://www.lloydpest.com/fleas/
Tags: flea infestation, flea prevention, fleas, treating fleas
Posted in Fleas, Pest Control Tips | No Comments »