Posts Tagged 'Southern California'
Friday, January 11th, 2013
With the new school year upon us, college students are returning to campuses for the upcoming semester. Whether they are excited to see their roommates, or dread going back to such small living quarters, we understand that there is more to dorm life than simply sharing a room with a fellow peer.  College dorms and off campus housing provide the perfect storm for a bed bug infestation to develop, as the pest thrives in heavily populated places.
A recent study conducted by the National Pest Management Association (NPMA) and the University of Kentucky found that bed bug infestations are on the rise in many types of dwellings, including college settings. In fact, 54 percent of pest professionals surveyed had treated bed bug infestations in college dorms in 2011.
"Bed bugs are known for their uncanny hitchhiking abilities, so students returning to school should inspect their belongings and living area thoroughly before they unpack," said J.R. Feagles, a customer care representative at Lloyd Pest Control. "If anything suspicious is found, we recommend immediately contacting a university facility manager."
Experts at the NPMA offer these additional tips to help prevent bed bugs from becoming an unwanted college roommate:
1. Fully inspect your suitcases prior to re-packing for a return to school, especially if you have traveled during the summer. Be sure that any clothes that may have been previously packed in the suitcases have been washed and dried in hot temperatures.
2. Before putting your sheets on your dormitory bed, inspect the mattress seams, particularly at the corners, for telltale stains or spots. Thoroughly inspect the entire room before unpacking, including behind the headboard and in sofas/chairs.
3. If you are considering bringing "secondhand" furniture to campus, properly inspect it to insure that a pest problem, such as bed bugs, is not the reason for its "secondhand" status. If you see anything suspect, do not bring it to campus.
A licensed pest professional can assist in proper identification and treatment of bed bugs. "Many consumers think they can handle bed bugs on their own, but the reality is this pest is not a do-it-yourself project," added Feagles. "Attempts to control bed bugs on your own may only exacerbate the problem and lead to a larger infestation."
Here at Lloyd Pest Control we want to equip you with the necessary knowledge to help prevent bed bugs, realize when you have bed bugs and why you may be dealing with bed bugs.
How do you get bed bugs?
1. They are passed around from one infested home to the other
2. They are more common in a high transient population, dorms and apartments
3. Although they are called "bed bugs," the bugs can live anywhere that you are sedentary so that they can feed from your blood
How do you know if you currently have bed bugs?
1. There are rust colored blood stains on your sheets
2. Small bites on arms and legs result in red swollen and itchy skin
3. The mattress seams and corners are littered with telltale stains or spots
How to prevent bed bugs?
1. Sadly, the best prevention is to avoid contact with bed bugs altogether. If you have been in contact with bed bugs, it doesn't mean that a new colony will sprout at your home. In order for bed bugs to proliferate at your property, you would have needed to import a pregnant female or a mated pair.
For more information about bed bugs, visit www.lloydpest.com or give us a call at 1-800-BAD-BUGS
Tags: bed bugs, College, Dorm Life, how to avoid bed bugs, Pest Control, Southern California, Tips
Posted in Bed Bugs, Safety, Uncategorized | 1 Comment »
Wednesday, October 3rd, 2012
Fall and spring are undoubtedly beautiful times of the year, but they also bring swarms of a certain pest that is not so aesthetically pleasing. Termites are known to cause $5 billion in damage each year, and are nearly impossible for homeowners to treat on their own.  Lloyd Pest Control offers professional termite treatment along with family safe products that have been registered for use by the EPA. Because these wood destroying insects pose a threat to every home in Southern California, we believe it is vital to be aware of possible signs of infestation. Below are some educational tips and warning signs to help you evaluate whether or not these pests have made your home theirs.
Tips to avoid termite infestations:
As most termites are attracted to moisture, avoid water accumulation near your home's foundation. Divert water away with properly functioning downspouts, gutters and splash blocks.
Quickly repair house damage from a leaky roof or window as termites can thrive in this moisture.
Never bury wood scraps or waste lumber in the years, especially near the building. Remove old tree stumps and roots around and beneath the building.
Most importantly, eliminate any wood contact with the soil. Maintaining a 1-inch gap between the soil and wood portions of the building is ideal.
Recognizing the destruction
termites
 can cause, it is important to be aware of infestation warning signs:
Swarming happens in the fall (now!) and spring – termites can easily be confused with flying ants.
Evidence of mud tunneling in, over and under wood structures.
Wooden structures exhibit darkening or blistering.
Damaged wood becomes extremely thin and can easily be punctured by a knife or screwdriver.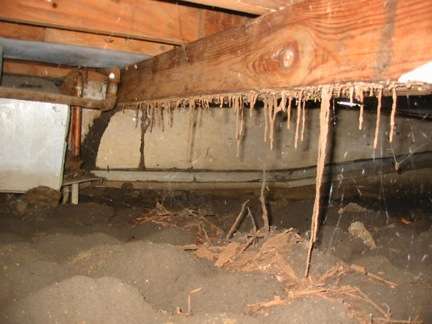 "Virtually all experts recommend calling a pest professional to protect one of your most important investments, your home, from
termite
infestation," says Missy Henriksen, NPMA vice president of public affairs.Lloyd Pest Control offers the specialized skills necessary to rid a home of termite infestation: knowledge of building construction, an ability to identify termite species and the knowledge of applicable methods of termite control.
For further information, visit ww.lloydpest.com or give us a call at 1-800-BAD-BUGS.
Tags: Fall, Foundation, House, Mud Tunneling, Pest Control, Southern California, Swarming Season, Termites, Tips
Posted in Pest Control Tips, Termites, Uncategorized | 4 Comments »
Tuesday, September 18th, 2012
As the crisp weather arrives and the summer season comes to an end, don't assume that stinging insects will soon disappear. Lloyd Pest Control, a pest management company servicing Southern California, warns that stinging insects tend to be more aggressive during the early fall as they gather food for the winter months ahead.
Most people associate stinging insects with the hot summer months, but as the cooler weather approaches, people still need to be aware of the dangers posed by yellow jackets, bees and wasps. If provoked, these pests can sting repeatedly, which increases the potential for skin irritation or a serious allergic reaction."
Experts at the National Pest Management Association, a nonprofit organization committed to the protection of public health, food and property from household pests, recommend that homeowners inspect their properties frequently for signs of an infestation. Common stinging insect nesting sites include under eaves, on ceiling beams in attics, garages and sheds, and under porches. In addition, homeowners should follow these tips to avoid being stung:
1. Wear shoes, especially in grassy areas.
2. Keep windows and doors properly screened.
3. When dining outside, keep food covered until ready to eat.
4. Remove garbage frequently and keep trashcans covered.
5. Overseed grassy areas to get better coverage, as this will deter ground-nesting insects.
6. Do not swat at a stinging insect as it increases the likelihood of an aggressive reaction.
7. Seek immediate medical attention if stung, as reactions can be severe.
Attempting to remove a nest or hive without the help of a professional can be extremely dangerous. It's important to contact someone with proper training to rid the property of these pests."
For more information on stinging insects, visit www.lloydpest.com or give us a call at 1-800-BAD-BUGS
Tags: Autumn, Bees, Bugs, Pest Control, Safety, Southern California, Stinging Insects, Wasps, Yellowjackets
Posted in Pest Control Tips, Safety, Uncategorized | No Comments »