Archive for the 'Termites' Category
Tuesday, April 23rd, 2013
Termite infestations are a common occurrence in areas of Southern California. If you think that you may be dealing with termites in your home or office, it is time to look for signs of infestation. In most cases, subterranean termites live under the concrete of homes and look for spots that get a lot of moisture. Drywood termites that are commonly found in Southern California are more prone to wood destroying rather than seeking shelter in concrete. To start you search for these pests, check to see if there are any small mud tunnels in or around your home. These are usually found in basements and crawl spaces. To check for drywood termite infestation, look for little wood piles found around trees, fences and stumps.
Pest control is absolutely necessary when you first notice the infestation. If left untreated, the damage can become increasingly worse, making it harder to control. To get rid of pests, you may consider these 3 bug control options.
1. Spot Control - One of the easiest ways for controlling pests on your own is to use spot control treatments. These chemical treatments come in foams, liquids and pesticides. This method is focused on one area and may not treat the entire infestation.
2. Fumigants - Fumigants can not be used around humans or animals, but are one of the quickest, most efficient ways of getting rid of pests. This treatment can take anywhere from a few hours to a few days.
3. High Heat - High heat treatment is ideal for small houses that are dealing with termite problems. Humans and pets must not be present, as heats within the home are drive up to 120 degrees to kill all signs of pests.
Exterminating pests is best left done by the professionals. By hiring an exterminator, you are sure to get the best results and be left with a termite-free home. Simply contact Lloyd Pest Control for your in-home consultation today!
Posted in Termites | No Comments »
Wednesday, October 24th, 2012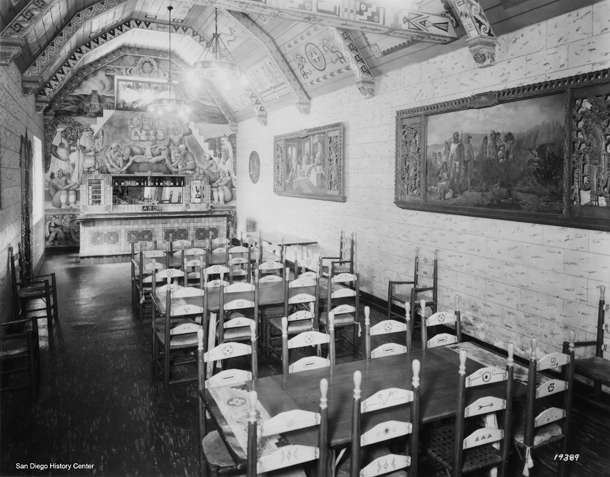 Lloyd Pest Control has proudly supported the arts for numerous years. Whether it is music, painting, or film, we see beauty in all creativity. Recently we have had the great opportunity to preserve a tangible piece of art history. Unfortunately the Aztec Brewery in Barrio Logan fell victim to one of the most notorious fall pest infiltrations. As you may have read in our previous blog post, the fall season undoubtedly brings swarms of termites.
In the 1930's the Aztec Brewing Co. was a popular spot for tasting. The extravagant décor filled the room, creating a sublime atmosphere. The physical bar at the Aztec Brewing Co. "is the centerpiece of a collection of furniture, murals and roof beams that the city has been storing for more than 20 years." When one of the art handlers "pulled the wooden bar out of storage they found bore holes, remnants of mud, and weakened wood." This posed a large problem considering the bar was to be moved to a conservation studio in L.A.. Because it was infested, we were asked this past weekend to fumigate the bar. The project was a success and we were able to save a piece of history before the termites were able to inflict more harm.
Here at Lloyd Pest Control, we are the only ones in San Diego County to have a special fumigation chamber that is used for certain items such as valuables, antiques, or even vintage bars like that of the Aztec Brewery. It is unique because the customer can bring anything from as small as a stamp collection to as large as a couch or armoire and have it treated professionally. It is a safe way to fumigate single or multiple items without tenting your entire home. We also provide this service in the Anaheim area as well.
Click here for the full article
Tags: Fall Termite Swarms, Fumigation, Pest Control, Southern California Pests, termite control, Voice of San Diego
Posted in Company News, Termites | No Comments »
Wednesday, October 3rd, 2012
Fall and spring are undoubtedly beautiful times of the year, but they also bring swarms of a certain pest that is not so aesthetically pleasing. Termites are known to cause $5 billion in damage each year, and are nearly impossible for homeowners to treat on their own.  Lloyd Pest Control offers professional termite treatment along with family safe products that have been registered for use by the EPA. Because these wood destroying insects pose a threat to every home in Southern California, we believe it is vital to be aware of possible signs of infestation. Below are some educational tips and warning signs to help you evaluate whether or not these pests have made your home theirs.
Tips to avoid termite infestations:
As most termites are attracted to moisture, avoid water accumulation near your home's foundation. Divert water away with properly functioning downspouts, gutters and splash blocks.
Quickly repair house damage from a leaky roof or window as termites can thrive in this moisture.
Never bury wood scraps or waste lumber in the years, especially near the building. Remove old tree stumps and roots around and beneath the building.
Most importantly, eliminate any wood contact with the soil. Maintaining a 1-inch gap between the soil and wood portions of the building is ideal.
Recognizing the destruction
termites
 can cause, it is important to be aware of infestation warning signs:
Swarming happens in the fall (now!) and spring – termites can easily be confused with flying ants.
Evidence of mud tunneling in, over and under wood structures.
Wooden structures exhibit darkening or blistering.
Damaged wood becomes extremely thin and can easily be punctured by a knife or screwdriver.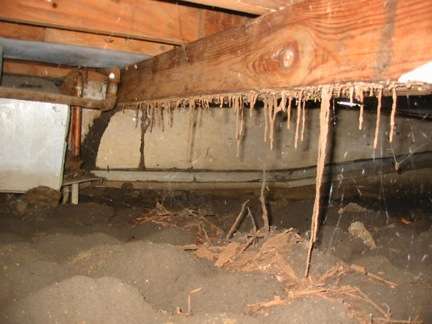 "Virtually all experts recommend calling a pest professional to protect one of your most important investments, your home, from
termite
infestation," says Missy Henriksen, NPMA vice president of public affairs.Lloyd Pest Control offers the specialized skills necessary to rid a home of termite infestation: knowledge of building construction, an ability to identify termite species and the knowledge of applicable methods of termite control.
For further information, visit ww.lloydpest.com or give us a call at 1-800-BAD-BUGS.
Tags: Fall, Foundation, House, Mud Tunneling, Pest Control, Southern California, Swarming Season, Termites, Tips
Posted in Pest Control Tips, Termites, Uncategorized | 4 Comments »
Monday, February 27th, 2012
A subterranean termite lives in the soil where they need moisture to live. These invasive and destructive creatures build mud tubes (which are literally that: tubes of mud) which are their form of transportation and protection from weather and predators. Using mud tubes, they can even get through cracks in concrete to get where they are trying to go: in your home to eat wood.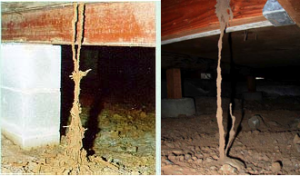 Similar to drywood termite swarming season in September, you may see subterranean termites out and about come Spring time. They'll likely swarm during warm days following a rain. Why? They're looking for a mate to reproduce and create their own colony.
Subterranean termites themselves can be difficult to see because they hide within wood – so seeing signs of their presence,  including mud tubes and wood damage, is a form of detection. If you see the winged termites during mating season – in your home – you should definitely have a thorough inspection done.
If left untreated, subterranean termites can cause massive damage to your home.  Eating away the wooden bones of your home compromises the structural integrity of your home. These repairs can be costly.  The good news is that prevention is easy. A bi-annual inspection of your home and crawl space for subterranean termites is the best and easiest solution. And these types of inspections are almost always free, so you don't have any excuses. If subterranean termites are caught within a year, there will likely be little to no damage.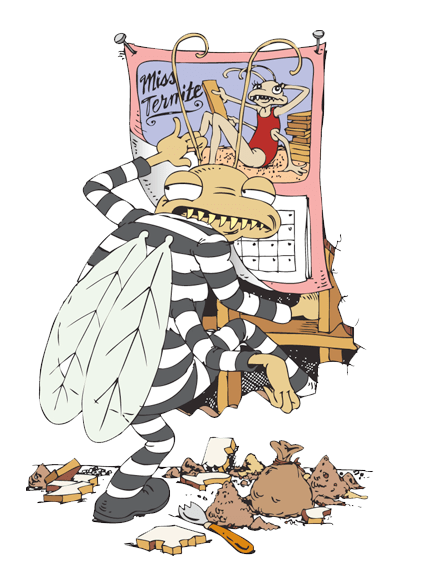 Tags: subterranean termites, termite damage, termite inspection, termite mud tubes, termite swarming season
Posted in Pest Control Tips, Termites | No Comments »
Tuesday, September 6th, 2011
 By Eric Paysen, Ph. D.
The end of summer brings with it melancholy.  But here in Southern California, it also brings Santa Ana winds.  And wildfires.  And a much less publicized disaster waiting to happen:  termites.  Each September and October, millions of mating termites swarm through our skies in search of new homes to colonize.  The annual cost of termite damage in the U.S.?  Five billion dollars.
Wood is critical to the survival of termites, which is why swarms will fly around in the hope of landing on a wood-framed home, garage, fence or gazebo.  Poor eyesight leaves the fate of the termites up to the winds.  For this reason, 99 percent of the termites in a mating swarm will die trying.  Only one percent will successfully find a wooden structure to call home. The lucky male termites that do happen to latch onto a chunk of raw or exposed wood will look for a female partner.  Water-damaged eaves, paint-chipped fascia boards, – these are the ideal conditions for termite romance.   To termites, the exposed two-by-fours of a garage are like merlot and a Barry White album.  Termite babies are born.  The new family feeds itself on the structure.  In time, the family becomes a colony, eating tunnels through the wood frame of the entire structure, often hollowing out beams and studs until they crumble.
San Diego, Riverside, and Orange County are ideal termite breeding grounds because of the combination of heat and humidity that pervades the region during the months of August, September, and October.   Swarming typically takes place on sunny afternoons, when temperatures are between 80 and 90 degrees F.
While termites are somewhat unpredictable and can infest any type of property, there are some measures that you can take to protect your home and prevent termite infestation.
Stay up to date on house repairs: Termites will try to find unpainted  crevices or exposed raw wood fissures to bury themselves. Make sure that all wooden surfaces are sealed or painted.  Don't ignore exposed surfaces in the attic or garage.
Use fine mesh screens over vent openings:  Attic and crawl space vents are a very common point of entry for termites. Installing a fine mesh screen on your vents is easy and inexpensive.
Get regular termite inspections: Most companies, such as Lloyd Pest Control, provide a free termite inspection.  A healthy interval between termite inspections is two years.  Eradicating termites before too much damage is done can mean the difference between spending a couple of hundred dollars versus thousands of dollars in termite treatment. Termite damage occurs slowly over time, so catching an infestation early is critical.
Termite damage is commonly identified in door frames, garages, and attics.  Just about any wooden expanse, big or small, can be susceptible – even furniture and items of decor. Because termites work beneath the surface, it can take up to five-to-seven years before a termite colony produces any real detectable damage. Don't panic if you see a couple of termites here or there; this is natural and should not be cause for alarm.
Warning signs that you may have a mature termite colony and infestation include:
A swarm of termites emanating from your house, or termites flying around inside
Piles of sawdust-like pellets or translucent wings abandoned near window sills and sliding glass doors.
Surface blisters on wood.  Often these blisters are caused by tunnels, or 'galleys,' dug by termites.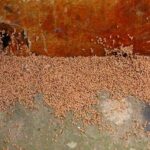 Following these simple termite preventative measures – and being able to identify termite warning signs – can help you avoid the costs and headaches caused by drywood termite swarms.
Dr. Eric Paysen is the lead Entomologist and Technical Director at Lloyd Pest Control, a Southern California-based company that specializes in ant and termite solutions. Dr. Paysen holds a Ph.D. in Entomology from Clemson University. See more from Dr. Paysen here.

Tags: termite control, termite prevention, termite season, termite treatment, termite warning signs, Termites
Posted in Pest Control Tips, Termites | 3 Comments »